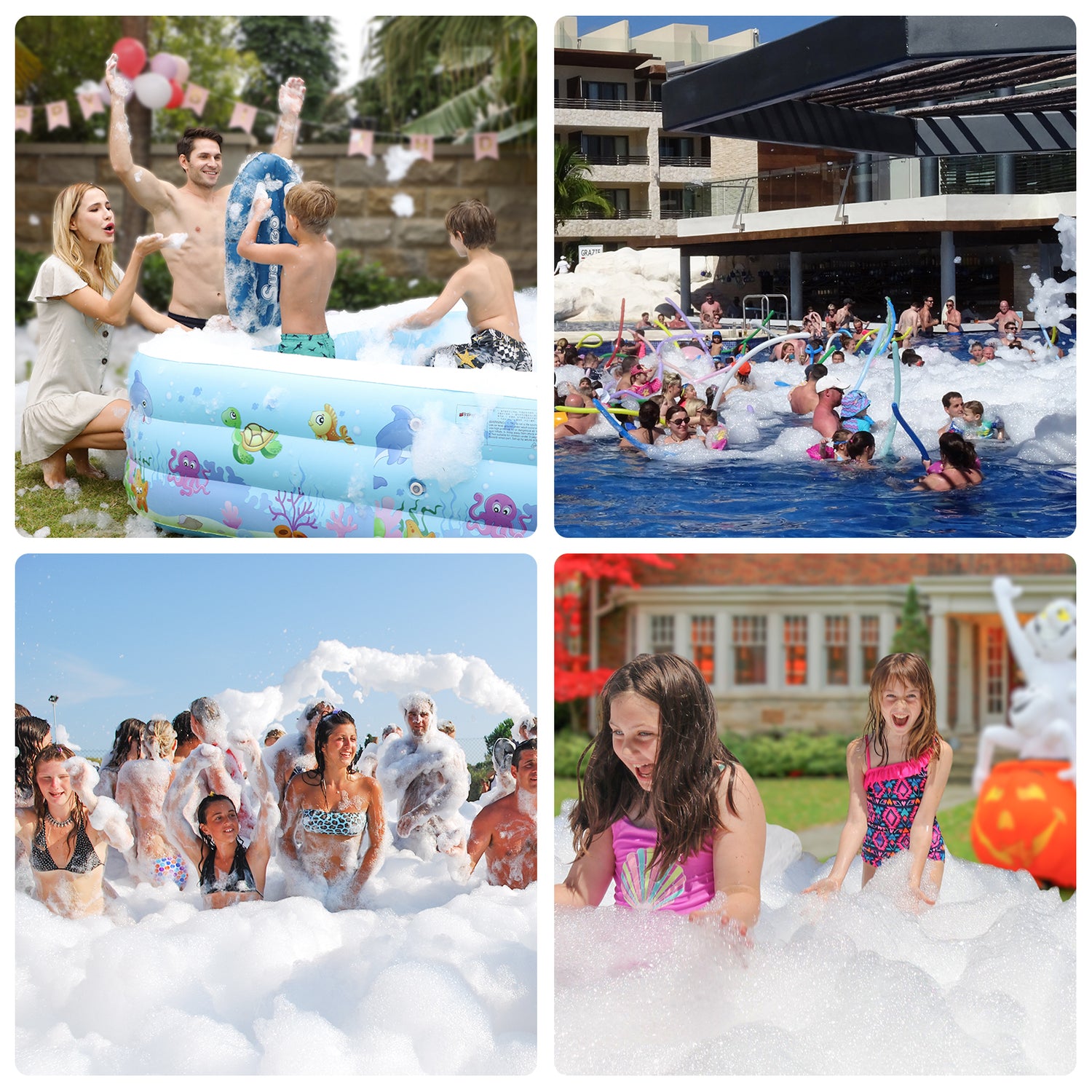 The world's first portable household foam machine
It is specially designed for courtyard foam parties. With it, it's easy to host a foam party or add some foam to your birthday party, graduation party, summer pool parties, Halloween parties, and more. You no longer need to rely on any professional or outsourced service.
Having a Party with Our Machine
Features
All-in-one Design

It's small but powerful. This machine is as big as a basketball, weighs only 1.5kg, but includes a motor, a water pump, and a control circuit inside. No more external accessories needed.

Easy to Use

The Tinleon Foam Machine is for ultimate convenience. First, prepare a bucket of bubble water, then plug in the hose connecting bubble water, and the wire to the machine, turn it on, and the foam is ready.

Easy to Set Up and Move

The 1.5kg bubble machine can be placed on a tripod and moved to any place you want to be covered with foam, such as trampolines, swimming pools, inflatable castles, etc. Or you could hang it on a 3-meter high cantilever and let it sprinkle foam from the heights.

Fast Foaming Speed

The foam can cover a whole swim pool (around 13m³) in less than 5 minutes. (The test data is from Tinleon foam powder, the data using other foam powder may be different)

Timing Power-off Design

It will automatically power off after 15 minutes of foaming to prevent making too much foam. It could produce more than 40m³ of foam within 15 minutes. This design not only guarantees the foam volume but also ensures that the foam is always within a controllable safety range. But if you want super more foam, you could just turn it on again.

Overheating Protection

The Tinleon Foam Machine is built with an overheating protection system; it is sensitive to temperature changes. If it overheats or short-circuits, the machine will automatically power off, providing vital protection during the whole party and ensuring a safer and happier party.

Ultra-low Cost

When using our products to throw a party, you only need to worry about the electricity bill and the extremely low-price foam powder. The cost of playing foam is only 5-10 US dollars.
Our Mission
We are from Susengo, a toy company determined to deliver joy with innovation. To help people hold foam parties at home easily and safely, we created Tinleon Foam Party Machine, hoping to add some foamy fun to home parties.